The patient at the heart of our research
L'institut du thorax is a joint structure in translational research dedicated to cardiac, vascular, metabolic and respiratory diseases. Recognized by the INSERM, the CNRS, Nantes Université and Nantes University-Hospital, It involves around 800 collaborators working in :
six clinical sectors from the hospital-university department (PHU2) led by Jean-Noël Trochu,
one national referral center for rare diseases and one subunit of the Center for Clinical Investigations (CIC 1413) coordinated by Vincent Probst,
one research unit, directed by Richard Redon.
Under the leadership of
Bertrand Cariou
,
l'institut du thorax
combines basic research, translational programs, clinical activity, and advanced training in a single organization where clinicians and scientists cross their expertise to foster excellence and innovation through multidisciplinary programs and provide patients with state-of-the-art clinical management.
A key component of our success comes from constant partnerships between clinicians and scientists aiming to translate research discoveries to healthcare.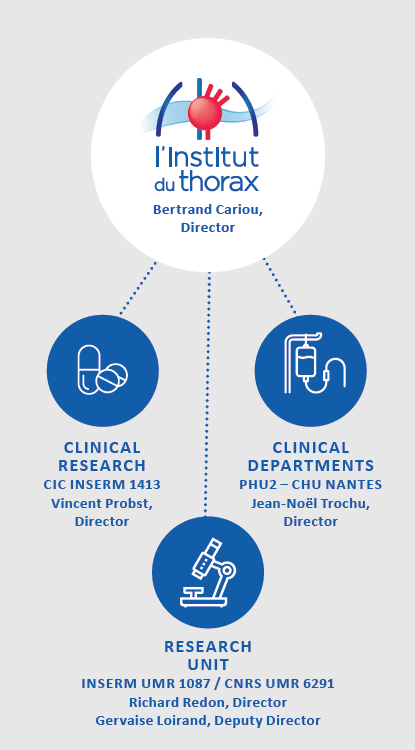 The research unit of l'institut du thorax
Inserm UMR 1087 / CNRS UMR 6291

Our research unit - which resides at the IRS-UN, a university building next to the University-Hospital in the city centre of Nantes - studies the genetics and pathophysiology of human disorders affecting the heart, the metabolism, and the circulatory system.

Since its creation in 1996, our lab has continuously grown from 15 people to about 180 today. This steady development illustrates our capability to promote research careers and to attract brilliant scientists from France and abroad.
Accordingly, each of our 4 teams, while developing its own basic research, is regularly solicited to contribute to integrated research programs aiming to identify new risk markers and/or therapeutic targets.
Our research relies heavily on the exploitation of the exceptional bio-banks that we construct in close collaboration with the clinical units of l'institut du thorax, and on the characterization of relevant cellular or animal models. Our goal is to identify new (bio)-markers predicting the risk of developing cardiovascular disorders, as well as potential therapeutic targets, which may eventually be validated clinically in-house.
This strategy has been a cornerstone of our translational programs, positioning l'institut du thorax as leading centre in cardiovascular research.
Technological core facilities, which are major tools in biomedical research, rely on major investments and specific scientific expertise. Our laboratory hosts three state-of-the-art core facilities in genomics, bioinformatics and functional explorations, which are managed in partnership with the SFR François Bonamy. These infrastructures act as a lever on our capacity to develop collaborative networks across Europe, North America and Japan.
2021 Key figures
Mis à jour le 10 January 2022 - Stéphanie CHATEL.